Lately we are writing quite a lot about themes. If you don't remember, we had mentioned in the post about choosing a good game and not dying in the attempt one of the factors that are usually relevant to make a purchase decision was precisely the setting or context of the game.
This is why we recently did an Instagram Direct with Mathom Maldà talking about "animal" themed board games which you can see here. As we are sure you will be left wanting more, in this post we expand a little bit the information. go ahead video! (in this case, forward text hehe)
Cat Stax (Maldito Games)
We start with a game borrowed by our friend Àlex from Jugador Inicial. We are faced with a puzzle game where we are presented with different logic challenges in which we have to place the different pieces of cats, each with the most unlikely shapes, in a grid. There are 48 challenges, with different levels of difficulty that ensure a lot of entertainment and make us think to solve the increasingly complex puzzles.
A very interesting and at the same time different proposal that allows us to develop our logical thinking. Although the puzzles are quite complex, it can be a bit short due to its almost null replayability. It cries out for mini-expansions in the form of print & play to keep it alive on our shelf.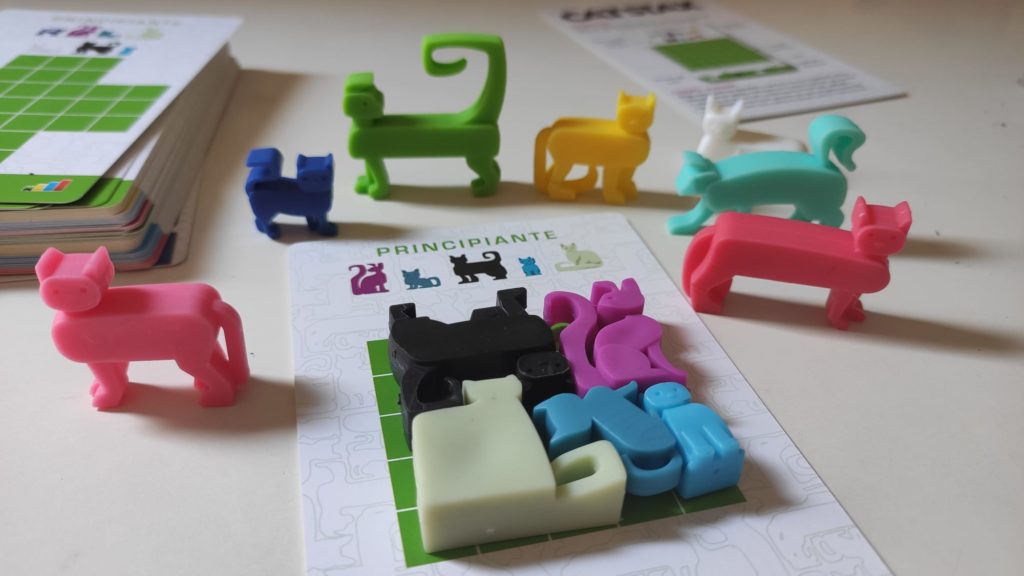 This is probably the best known game we are going to mention in this list. Wingspan is a set collection with a familiar feel and with rules that are accessible to all audiences.
This game stands out for its beautiful art, with very careful illustrations of each of the birds on the cards. If we talk about a sensational graphic section we also have to mention its excellent playability, in Wingspan everything is well spun and works wonderfully. The game is played in 4 rounds, each of them with one turn less than the previous one, in which we will have three possible actions: draw a bird card, lay an egg, take dice with the respective resources or play a bird. The interesting thing is that as the game develops, the cards will deploy effects and create "combos" so it is convenient to think well the strategy to generate good synergies between them.
If you are looking for a game that is a bit more developed but still familiar, this is undoubtedly the game for you.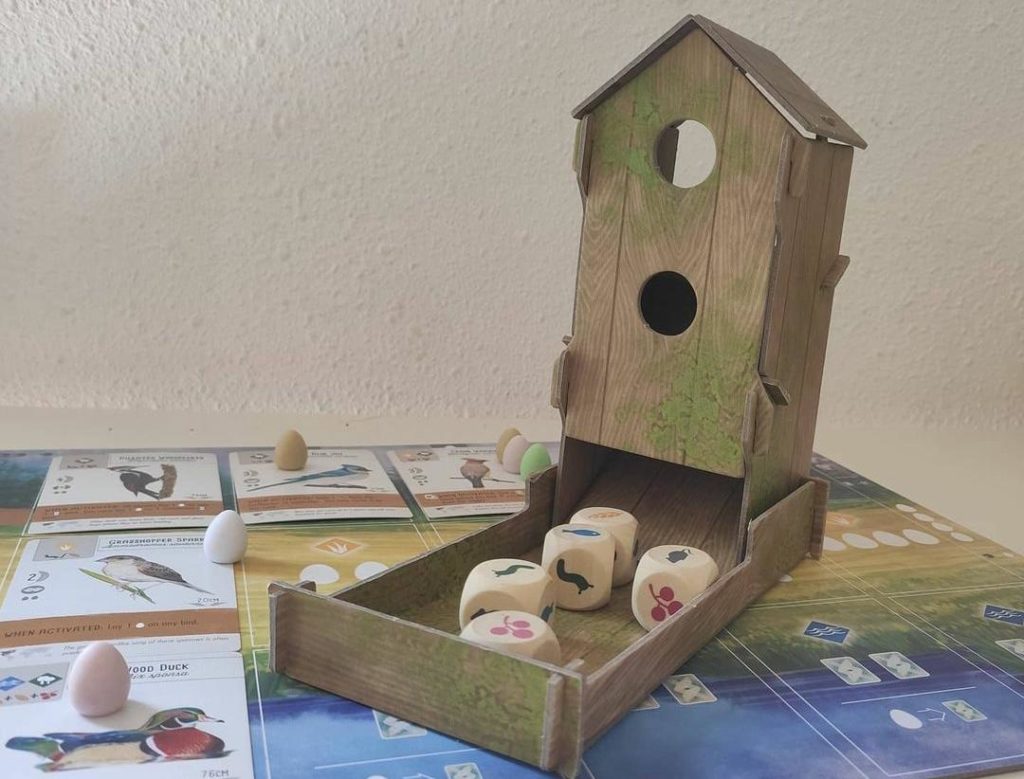 Surely this is one of the few games for children that we have in our toy library, but not for this reason it is also enjoyable for adults.
On this occasion, we discover a game that will delight fans of ABJ (Game Based Learning) since it has the support of Ludia Asesoras and includes a Psychopedagogical Guide for the development of different skills such as curricular, cognitive, social and emotional. It has also been created by Paco Yañez, author of Trainsilvania, Zampa la Granja or Pajarracos.
Sabuesos is a game with memory type mechanics in which we will have to find the bones of the nice dog-shaped meeples that have been hidden in the different gardens. A great game to introduce the little ones to board games, we also recommend another game of the same editorial line as Constructorres. Take a look at them, it's worth it!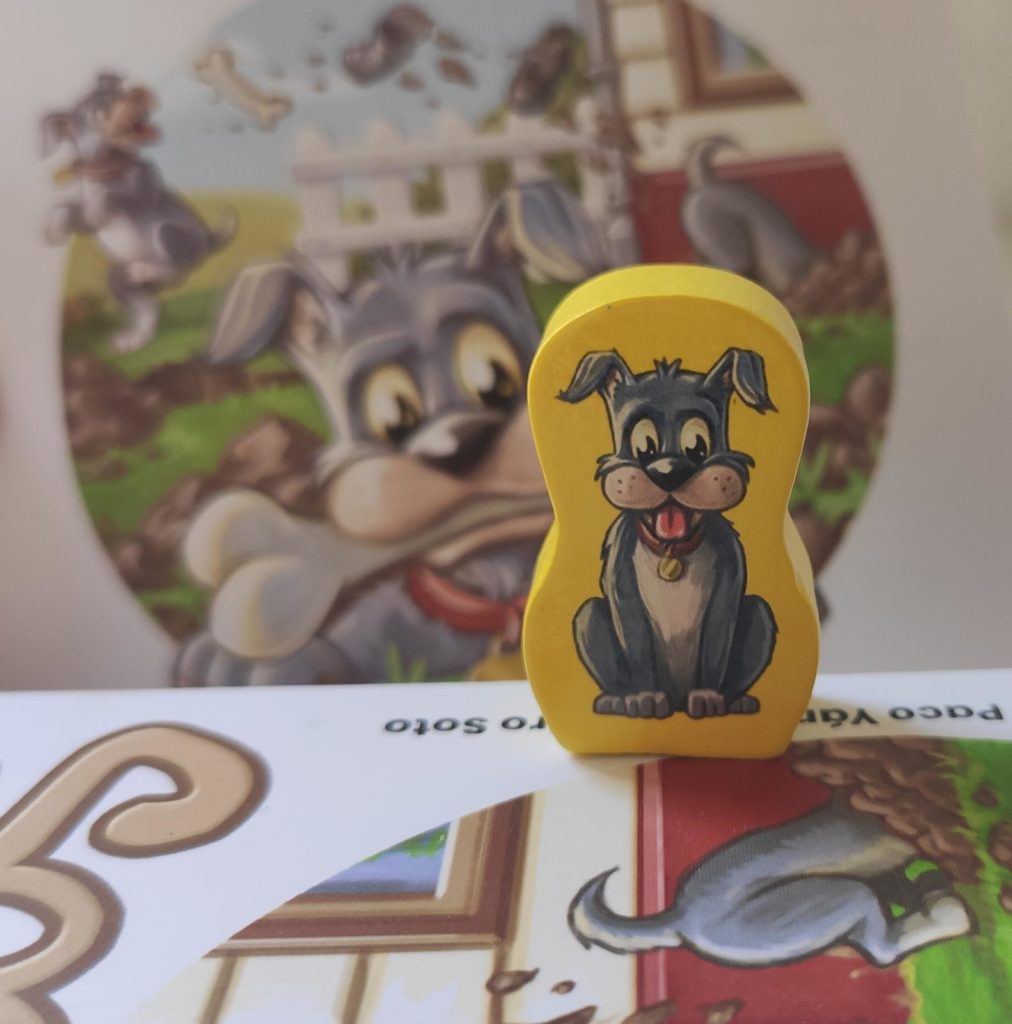 This game that combines Japanese food (sushi) and kittens is a delight for fans of fast games. We find a game with simple push-your-luck rules in which we can perform different actions such as serving a dish, eating a dish, jumping a dish or playing an action card. The objective is to match or make combinations, for this we can draw cards from the deck but we must take into account the chance (or statistics) to not draw indigestion cards, which are the ones that will make us lose the game.
This game is part of the You-Play? series of TCG Factory, currently consisting of three games that share common features: small boxes (and white color), originally published by the publisher IELLO, low price (just 13€) and easy to play.
The game itself emphasizes one concept: combos. This original game offers an experience of exploration of planets to expand the crew, all of them with different animal species well characterized, of different professions such as specialists, robots or agents to use their special skills to make combos and get rewards.
As in Winsgpan we find a game with a lot of strategy in which we have to combine the cards we have in our hand to create synergies between them. A game with super simple rules and with games of just 30 minutes. We found it interesting that the game itself offers a variant or solitaire mode in which you can compete against an artificial intelligence, with special cards for this mode, and that will add bonuses to the opponent.
Undoubtedly, we are facing a remarkable set collection and hand management that allows to exploit to the maximum the mechanics of triggering combos (space). The fact that the games only last 10 turns makes the strategic component take some importance since it will be necessary to plan well what actions we will carry out in each of the turns, discarding some "for lack of time".
Finally, it is worth mentioning that it shares some visual similarities with another game published by its parent publisher, Catch Up Games, such as CuBirds: animals with polyhedral shapes or targeting a family audience, but they are completely different in terms of mechanics and game experience.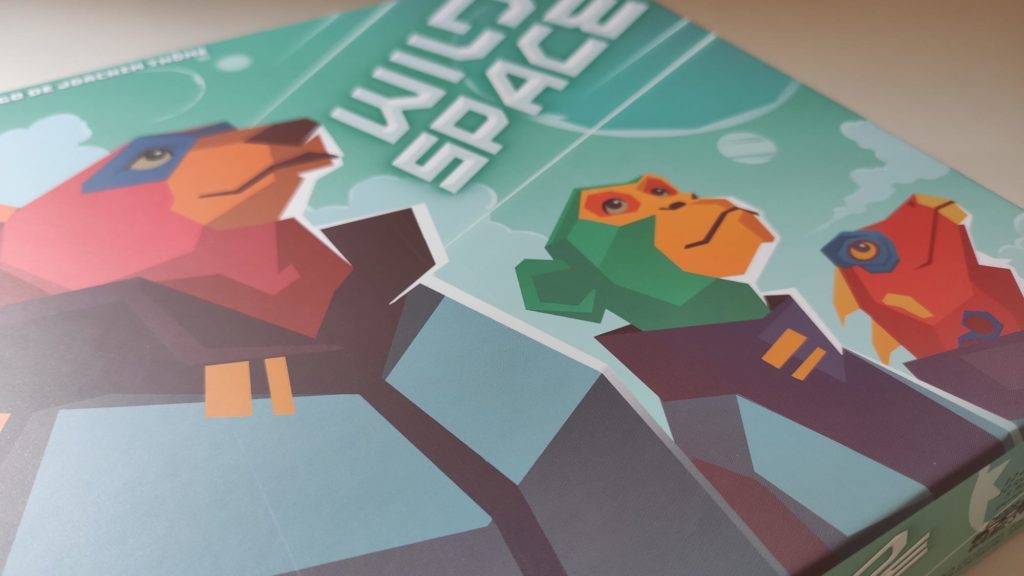 Rhino Hero Super Battle (Haba) and Kittin (Maldito Games)
Finally, we want to mention again two games we told you about when we asked you if skill games, only suitable for players with a good pulse? These cool games starring animals in which we have to test our skill and balance could not be missing in this post.
Rhino Hero Super Battle is starred by Rhino Hero, a rhinoceros super hero together with Batguin (penguin), Big E. (elephant) and Jirah (elephant) and Giraffe Boy with the rivalry of various spider-monkeys offers us a game in which we have to build a skyscraper in an impossible way and with little stability. A priori it may seem a children's game but the truth is that it triumphs a lot with adults as it offers an attractive enough challenge for anyone to enjoy it, since we are not facing a game with high pretensions but what it intends is that players have a good time without caring so much about the competitive section.
However, we have to mention that it does not support large groups so that 4 players (its maximum) can be a little if you have other options on your shelf party games a little more versatile.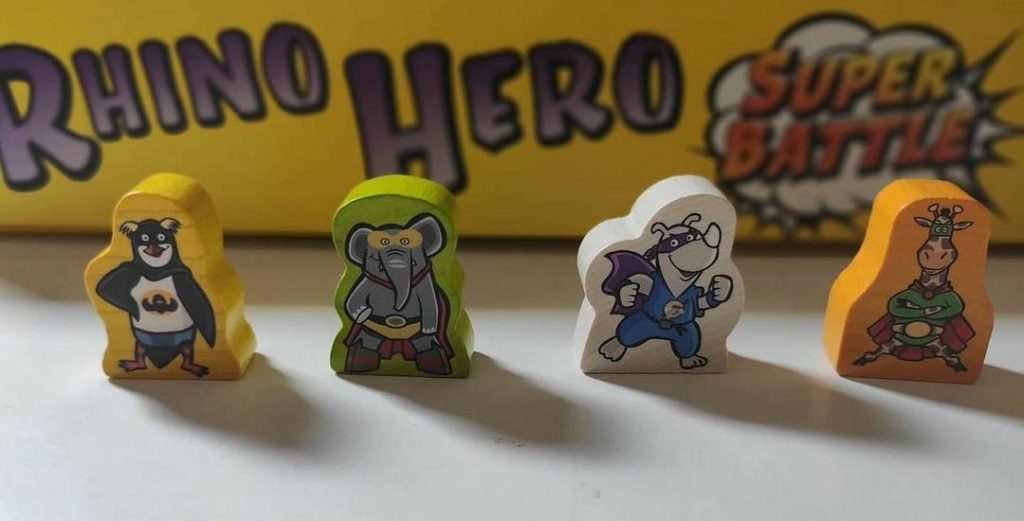 Kittin is a nice construction game in which we have to stack the meeples of cats to meet the proposed pattern, as happens with Speed Cups the fastest player to complete it will be the winner of the points. Unlike the latter, the fact that the figures are of different shapes adds a pinch of difficulty and makes it much more interesting. It also has a variant of cooperative team play that adds a few special rules. Will you be the Chief Cat Cuddler?
Finally, we would like to invite all of you from Barcelona to visit Mathom Maldà to take a look at the outlet. You can find some animal games like Zorros Al Corral, Flying Kiwis or Here Comes The Dog.
Follow us on Instagram! www.instagram.com/kleff.bcn
If you want to keep up to date with the events we organize, sign up for our Meetup: https://www.meetup.com/es-ES/kleff-top-events-in-bcn