Christmas is just around the corner and it's time to pick some games to give to our friends and family. In this list we are going to mention a few games that we would give as gifts and that we think would be ideal to take out after any of the Christmas meals. The only two premises we are going to keep in mind are: (1) that they are games that have been released this year 2021 and (2) that even your grandmother can play them.
Surely you know the games published by this young Spanish publisher. Cat Café, Poule Poule and El Valle Secreto are the three games published so far and which have been a great success. Soon will begin the Verkami campaign of Spanta, a title with very cute ghosts that will surely be very popular. Cacahuete Games is making a publishing line with a lot of personality, with very well chosen titles suitable for all audiences.
We have chosen Pepinillo, this vegetable game, because it is exaggeratedly fun. The rules are very simple and it proposes to mention syllables of words following some variations in the rules such as saying the syllable with the letter "o", changing the meaning, repeating the syllable or changing the meaning, for example. During the after-dinner Christmas meals we need something light, after almost choking on the appetizers, cannelloni, soup, etc., and with Pepinillo we have a set-up of 10 seconds, rules explained in 1 minute and as much time as we want for fun and laughter. In addition, the price is so affordable that it is impossible to resist, only 7€, and the novel wallet format invites you to carry it in your jacket to take it to those meals away from home.
The board game publisher Guerra de Mitos brings us a very interesting proposal that perfectly combines the typical mechanics of hidden role games with word games. It is not surprising that the cover image of the game is a dinosaur with spikes in the form of books is very illustrative of what we are going to find. In Tesauro the words deceive us and we have to build, and convince, the master that our word is the correct one. In fact, the mechanics is simply the following: the players will receive a role (Orate or Brillante) and a word with its dictionary definition and they will have to invent a definition that seems true and thus win the round. On the other hand, the Brilliant One will have to be convincing enough in his speech to recite the definition he has read so that he is the chosen one.
3. Soviet Kitchen Unleashed (Devir Iberia)
Since we are talking about Christmas meals, how about playing the role of cooks and preparing some delicious dishes?
This fun game, published this year in Spain by Devir Iberia, offers an innovative game mode with an application and QR codes. Yes, QR codes have had a second youth this year.
By means of the mobile application we will be scanning the letters of ingredients to try to satisfy the troops of the Soviet Union. The game will propose us a dish and a range of colors to fulfill and we will have to manage our hand to prevent the recipes from being too toxic. Indeed, toxicity will play a key role if we take into account that the ingredients we will use are tires, ropes, nails, rotten food, and so on.
A musical game could not be missing in this list. There is no party without the traditional round of karaoke, right? This proposal, devised by Pak Gallego, offers us an original way to follow a rhythm and have a fun time without breaking our heads with strategy.
In Tempo we will have to create a melody following a metronome. Each player will receive a card with a syllable that will have to repeat rhythmically until a player makes a mistake. The fun of the game is that each time we will add more syllables and the other players will generate different melodies, making it difficult for us to follow our own rhythm.
In this Instagram Reel you can see Pau & Karen (@notgretawhodis) playing Tempo.
At Christmas time we can't miss a game in which we have to draw, right?
Mensaje Final is a TCG Factory's bet that has liked a lot for its simplicity and for reminding us of Where's Wally, a popular series of illustrated books in which we had to find Wally and some effects in a scene full of elements.
We will play in teams and each team will have a mission. The team that hides a character and the one that has to find him. Both teams will have the same scene and will have to sharpen their eyesight to find the key elements that will allow them to be victorious. In this way, the player who hides the character will indicate the character to the player next to him and he will have to draw it. Once this is done, the player who chose the character will eliminate different boxes to hide the drawing. When the corresponding number of squares have been removed, depending on the turn of the game, the other players will be asked to interpret the incomplete drawing and try to locate the character that is hidden.
We discovered it at DAU Barcelona and we think it is an ideal game for all ages. The illustrations are very cool and everyone will like it because of its simple rules.
Do you remember that logic game in which there was a traffic jam in a parking lot and we had to move the different vehicles to get out?
Pakal gives it a twist and offers us a race in which we have to move colored and transparent chips on our small puzzle board to see the different objects that propose the different challenges. Being the first to complete these challenges will allow us to move forward on the board and get, thus, to be the player who reaches the farthest bridge area.
A frenetic game not suitable for those who have to analyze and make decisions slowly. It is not Pau's game, unfortunately.
If you can't convince anyone in your family, don't worry because with Kapadokya you will only have to convince one person. This fun game for two players has been designed by the multifaceted author Alberto Millán and proposes an interesting strategy game, in the purest 'give and take' style where we must get the highest score possible by landing hot air balloons. It seems a simple game and it is true that mechanically it is, but we will have to think well the actions to avoid giving valuable points to the other person.
To finish this list of games, the last recommendation is Unánimo. Probably one of the games that has been played most often on our weekly game nights. The mechanics are as simple as highlighting a letter with a picture and writing the words that remind us of this word. Matching with the rest of the players will give us victory points.
We like it so much that we were thinking about making the biggest game ever at the KLEFF x Zacatrus Party we did at the end of November but at that time it was sold out. If you find it in any store, get it because you are going to have a great time.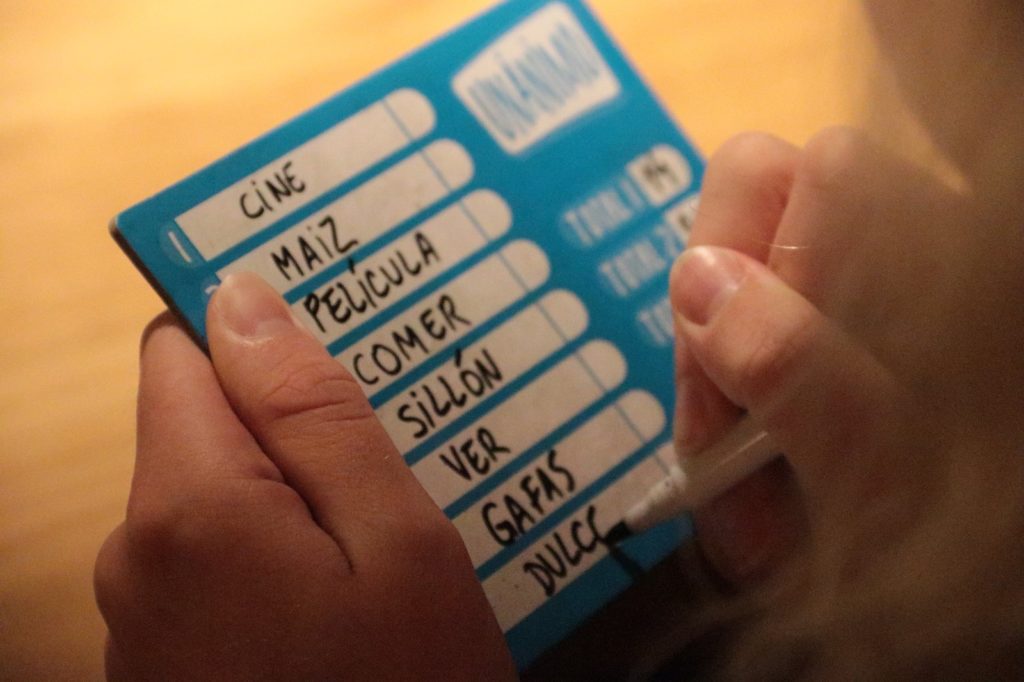 BONUS: Cofre de Juegos.
If this list does not convince you or you are undecided, a good option is to get advice from Cofre de Juegos. An entity that makes surprise boxes of games of different themes, adapted to your tastes and taking into account your collection. You have a special Christmas box that is sure to be a great success. You can buy it with a 5% discount (code: kleff_barcelona_21).
Follow us on instagram to see more photos of our activities: www.instagram.com/kleff.bcn
Join our Meetup community: https://www.meetup.com/es-ES/kleff-top-events-in-bcn