Surely in the header image of this article you have seen the map-shaped board. But, could you tell which city it is? We are aware that we make it difficult for you as it is upside down and with hardly any distinctive signs… However, if you sharpen your eyes a little (and zoom in) you can surely distinguish some places shown on the cards as well as the name of the city to which the game refers. Have you figured it out yet? Not yet? Don't worry, in this article we will talk about some board games in which cities are quite important in the theme. Let's get started!
This game, which we bought from Pol from Mono de Juegos, challenges us to build a city by means of an interesting dice-rolling system. Depending on the dice we roll, we can get certain resources that we can redeem to build our buildings. It is a low-medium complexity game, perfect for introducing casual players to the mechanics of rolling dice and managing resources, since we have a guide that reminds us at all times what we can get depending on the dice we roll. Visually we found it spectacular, with beautiful 3D buildings and individual game boards for each player very well thought out. Although the price of approximately 45 or 50 euros may seem high, we assure you that the quality-price ratio is very appropriate for the large number and quality of the components included in the game.
What we liked the most: the great variety of options to score points, each player can think of a different strategy to build their building and get points in different ways.
What could be improved: we have only tried it with two players and the competitiveness has been somewhat scarce, as each player has his own dice there is hardly any interaction beyond the possible penalties that affect the opponent if skulls are obtained on the dice.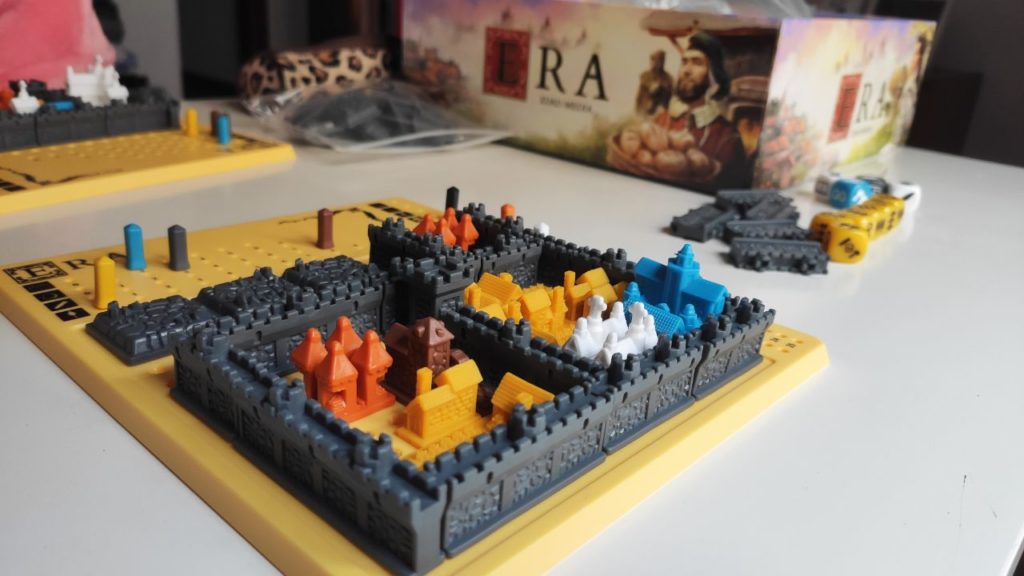 2. Die Baumeister Von Arkadia (Ravensburger)
A game that we got it imported from Germany, for not having been published in Spain despite having been nominated for the prestigious Spiel des Jahres awards, and we discovered it almost by rebound on eBay Kleinanzeigen (the German Wallapop, so that we understand).
It presents us with a curious mixture of tile placement (with shapes in the purest Tetris style) with worker placement. Two mechanics that at first might make you think that they won't work. However, the conjunction is almost perfect because this game manages to make us think about how to efficiently manage the placement of the tiles, which previously we will have the corresponding card in our hand, along with the workers. In order to score points we will have to place workers of our color adjacent to any of the tiles that have been deployed on the board and then sell it in the market, be careful! you can only sell 4 times per game so you have to calculate well what is the value of the colored coins at the time of sale.
What we liked the most: the mechanics are very well connected and allows to develop an agile game with simple rules, perfect for players who are not very familiar with this type of mechanics.
What could be improved: although the aesthetics are beautiful, the pieces of the building remind us too much of other games and hardly add value to the game. We miss a little more interaction between players, although with 4 players there is a real struggle to occupy the space.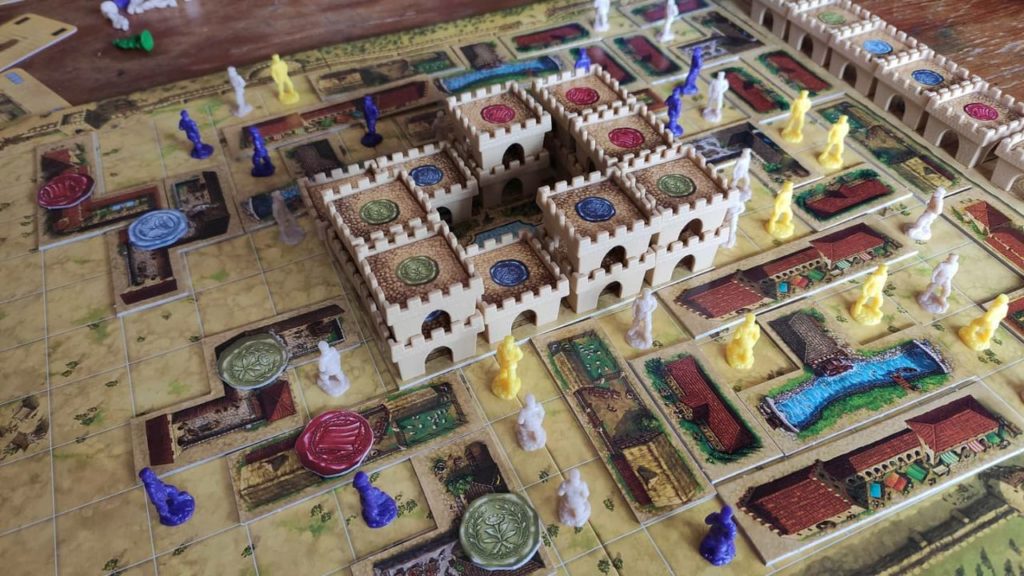 3. Quadropolis (Edge Entertainment)
This is probably the least seen game in this article but not for that reason the one we liked the least. We had the opportunity to test it with Alberto Millán, author of several board games, to be able to draw conclusions since it is a game that has been on Pau's wishlist for many weeks.
In this case, we are facing a game that can be classified into several categories of mechanics such as hand management, set collection and tile placement. This allows us to have different ways of scoring and that each of the players propose different strategies to get more points at the end of the game. The rules are very simple: in each of the rounds we can opt for some of the tiles, which correspond to different types of buildings, each of which will give us different resources that we can use in the other buildings. To opt for the tiles, we have to take tokens from builders that will indicate which tiles we can opt for. As we have noted, it is a super simple game but with enough strategy so it is suitable for casual players but also for more experienced players.
What we liked the most: the combination of mechanics is well implemented, the different buildings and ways of scoring allows players to play without hardly clashing in the struggle to achieve certain objectives.
What could be improved: we have lacked a bit of depth (for all tastes the colors!), although the theme of city building is interesting it is not fully exploited and it is a shame because the mechanics could give a lot of play.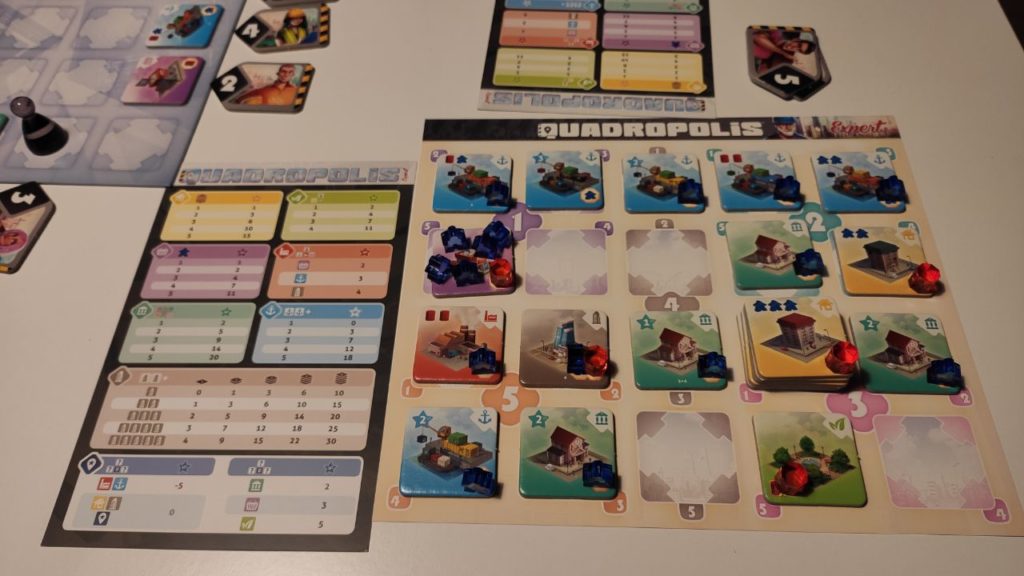 4. Paris (Maldito Games)
Another game that we have approved with good company, in this case with Tinku Juegos, our Argentinean counterparts. In Paris we have an affordable area majority game for not so experienced players. The cover of the box already indicates that we will find a game with a careful and detailed art, proof of this is the striking Arc de Triomphe that will preside over the table once the game has been deployed.
The game has a lot more crumb than it might seem because in addition to trying to get the most keys in each of the districts, we can perform special actions if we advance in the radial board that Paris offers us.
What we liked the most: a game with a medium depth suitable for all gamer palates, it works perfectly with 4 players and with enough strategy when making decisions.
What could be improved: some districts can be abandoned if the cards that are available in them do not suit us, that a player advances quickly in one of the districts can generate frustration for not being able to climb in them and lose scoring options, some mechanics can be useless during the course of the game and the games have seemed a little long to us.
5. Coimbra (Eggertspiele)
This is the game with the most weight in the KLEFF toy library, 3.28 on BoardGameGeek. With that we say it all. Although the weight is quite high for the type of games we usually play, we liked it quite a lot.
Coimbra offers us a huge game area in which we will have to control several aspects: place workers (dice), collect card sets and move around a board that emulates a kingdom with different stops that will allow us to obtain certain rewards.
Undoubtedly, it is a great game with a lot of complexity that requires one hundred percent concentration so that no detail escapes and take into account, in this way, all the variables that are happening round by round.
What we liked the most: the great variety of mechanisms, perfectly we could find in different games and, separating them, they could even work independently.
What could be improved: too much Analysis-Paralysis, the turns can sometimes become eternal, it would be interesting to offer an introductory mode for less experienced players.
6. Tiny Towns (Arrakis Games)
We have to admit that when we saw the cover of Tiny Towns we did: WOW! As in Paris, we are faced with a game that the art or aesthetics are at the height of the game. You already know that art and illustrations are an aspect that we take very much into account at KLEFF.
Tiny Towns offers players a fairly relaxed city building experience, with almost no interaction between players beyond the active player having the power to choose which resource to take on the turn. In certain aspects it has reminded us of the famous bingo, in which we have certain objectives and we have to fulfill them to achieve victory. In the objective cards we will find the way in which we have to place the different colored cubes that will allow us to build a building and make points.
What we liked the most: a very simple game but at the same time with a lot of strategy, having a board with limited spaces it is convenient to think well where to start building new buildings because a bad choice can condemn us to not being able to build more.
What could be improved: the tone in this article to be the same and we miss a little variety, some building that will deploy effects to opponents would be interesting to give a little more excitement to the game.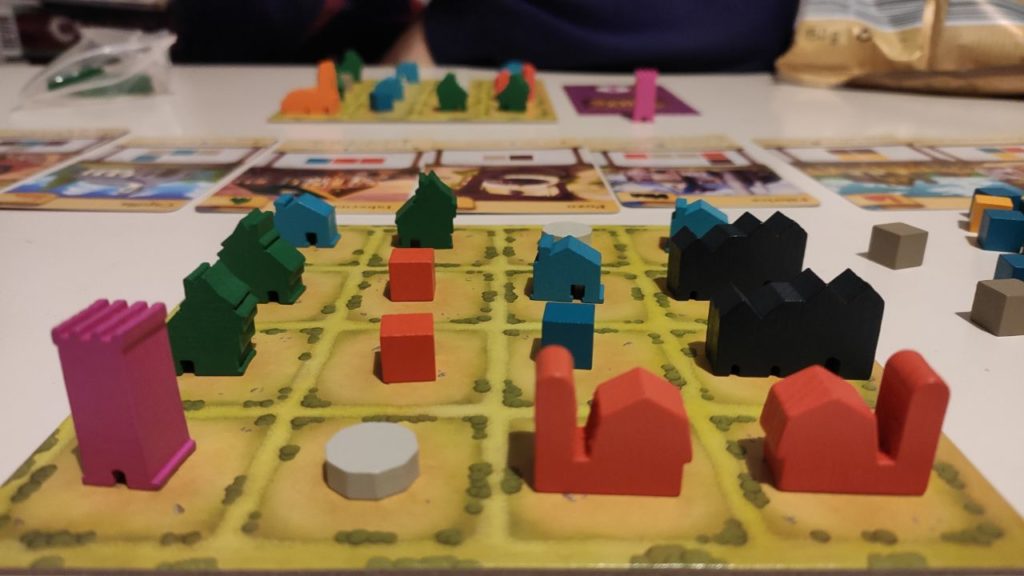 7. Torres (Devir Iberia)
As it happened to us with Die Baumeister Von Arkadia, we have found a pleasant surprise. We are talking about the Spiel des Jahres winner of the year 2000 and we bought it in a pack with some vintage games at an incredible price and as Àlex from Jugador Inicial says: it can't be bad at this price.
Although it is true that it reminds us quite a lot to Santorini (although the latter is later) they have nothing to do, only the pieces to build towers. Unlike Santorini, in addition to the two actions of moving a knight piece and placing a tower piece, we will have two additional actions (in total only 4 actions can be performed) such as adding a second knight with a cost of 1 action and playing an action card with no action cost.
We have found it to be an abstract game to take into account, designed by the same authors as Tikal, Java and Mexica with mechanics that bring it quite close to the classic eurogames through its action points and victory points. If you are interested in knowing more about the game we invite you to read the review of Misut Meeple (in Spanish), in this link.
What we liked the most: we love abstract games so we can't be very objective. The fact that different mechanics are introduced and that it has different variants, with less chance for example, makes its replayability high.
What it should improve: we haven't found anything to improve, although there is surely something that could make it shine more.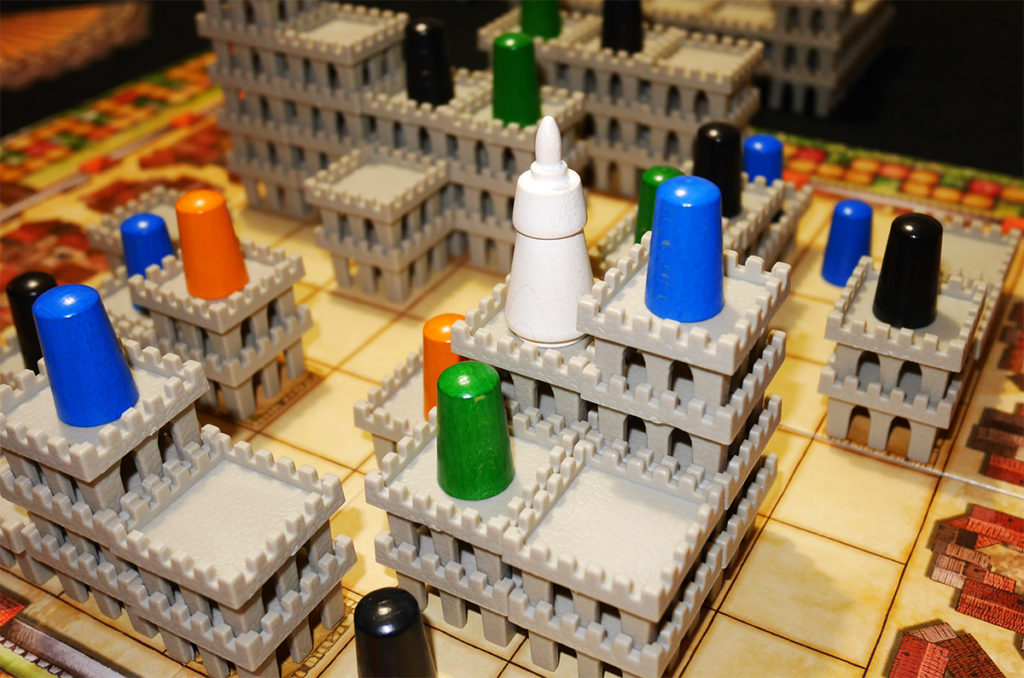 8. Zoom in Barcelona (Cucafera Games)
Finally! We arrived at the game we were introducing in this article. It is none other than Zoom in Barcelona, one of the games that we have played the most this last year both in person and online in our tournaments from home.
It is a game that puts us in the shoes of an amateur photographer who participates in a photo contest in the city of Barcelona (the best city in the world and you know it) in which you must photograph different monuments to be the player who scores the most points. The board is shaped like a map and we have to move through it using different means of transport such as scooter, bus, cab, metro and bicing. The game has a more advanced mode for more experienced players that allows you to replay it a lot.
What we liked the most: the simplicity of the rules but the challenge of replaying it with different objectives.
What it should improve: we would love it to explore new mechanics in its next editions, at the time of publication of this article Zoom in Kobe is confirmed.
Check out the article about the latest games we've discovered: cities if you want to know more games about cities!
What games in which the city has a certain relevance do you like? We read you!
Follow us on instagram to see more photos of our activities: www.instagram.com/kleff.bcn
Join our Meetup community: https://www.meetup.com/es-ES/kleff-top-events-in-bcn