Summer is here and we have taken the opportunity to go down to our summer house (Pau and Núria). We have done it very well accompanied with some friends like Àlex (Jugador Inicial), Karen and Alberto (@notgretawhodis), Jose and Núria (El Panda Jugón) and Mariona and Telmo (@burnthefestival) Do you want to know which games we have taken with us and which others have brought?
The KLEFF games
If last year we told you about 5 Beach / Pool-friendly Board Games you need to know, this year it was the turn for games for XXL groups (or almost). We have chosen these games because they are games that allow us to enjoy the outdoors without a table and allow many people to play simultaneously. Let's not forget that almost all these days we have been 7 players, so it was a question of having games for up to 8 players or almost. We also feel like relaxing, taking a bath or lying on the deckchair, it's not all about board games!
🍫 CACAO (Devir Iberia). Of the games brought by Pau and Núria it is probably the least versatile, as it is a tile placement game designed for up to a maximum of 4 players. Nevertheless, last night Pau, Núria, Karen and Alberto had a very interesting game interrupted by pizza dinner time. If you want to know more about the game, in this link you can see what we thought of it.
‍👩‍👧 Matrioska (Mercurio Distribuciones). A collection set with the plus that to get cards you have to negotiate trades with the other players. A very interesting mechanic that we had not seen in any other game. You have it at Mathom Maldà at a ridiculous price.
💌 Love Letter (Asmodee). A hidden role game with a super reduced deck of cards in which we will be changing characters and we have to try to have the card with the highest number before all the cards have been played.
🦏 Wild Space (Tranjis Games). If you like games that make combos, you will enjoy a lot. The mechanics are very easy: draw cards, play them and deploy their effects.
🦎 Sticky Chameleons (TCG Factory). We have defined it as the "crazy tongues". Two dice, one with different colors and one with different insects, is enough so that every time they are thrown there is a real competition and run over in the jungle to catch the right insects.
👑 Secretos en el Reino (Lúdilo Games). In this hidden role game we have to help the prince to find the princess. To do this, he will ask the other players one of these questions: Who are you? Where is the princess? Who is he/she? There are three teams, so the lies will be very present. Who will you believe?
🌯 Throw Throw Burrito (Asmodee). Can you imagine mixing a card game with dodgeball? This crazy combination is brought to us by the creators of Exploding Kittens. By means of a draft system we will be collecting sets of cards but, be careful, when someone groups three colored cards a war of burritos will be unleashed. Ideal to play by the pool. You're going to have to run to escape the burrito throwing.
👮🏻 Poli Bueno, Poli Malo (Ediciones Primigenio). As you can see, hidden role-playing games have been quite successful. On this occasion, we have the added bonus that in addition to the identities, we will have different equipment cards that could alter the course of the game.
The games of @notgretawhodis
How could it be otherwise, honoring her title of Queen of Fillers and Kickstarter, Karen has delighted us with several fillers and Kickstarters. Let's see what she has surprised us with:
🐦 CuBirds (Maldito Games). A very entertaining collector set in which we have to group birds to get 3 cards of the same bird or 7 different ones.
🦊 Abluxxen (Maldito Games). A fox on the cover already makes us think what the game is about: drawing cards. The goal is none other than to take your opponents' cards to score as many points as possible.
🐮 Toma 6 (Mercurio Distribuciones). Cards numbered from 1 to 104 and 4 rows. We play all simultaneously with the objective of placing in an orderly way the cards before the rows are completed. If the row is completed, we will get negative points.
⛏️ Plata (Zacatrus). A trick-taking game in which we have to try to get the cards that have silver and discard all the cards to be the first to get out of the mine.
🎲 Perudo (Asmodee). Surely you have played some time to the mythical "liar". This time with dice hidden inside a cup.
🌊 Deep Sea Adventure (Oink Games). If you are looking for a game with simple rules that revolves around push-your-luck mechanics, this is your game. We will go down to the depths of the ocean to find the best treasures. Beware of carrying too many treasures as each turn that passes, there will be less oxygen in the submarine and we could lose everything.
🍜 Stir Fry Eighteen (Yanaguana Games). Discard cards and trick the other players to cook the best dishes.
🕵🏻 Incómodos Invitados (Megacorpin Games). Any fan of the classic Cluedo? In this investigation game we will find a proposal that goes a little further. Centennials are scenarios, a revolutionary system of intelligent deck, different levels of difficulty and capacity for large groups. Perfect game.
🎢 Meeple Land (Maldito Games). Place tiles to build an amusement park, connecting paths to meet the requirements that will be asking each tile and add the maximum number of points. We must efficiently manage the budget of each of the rounds to be able to place the tiles of the attractions that most interest us so that many meeples visit us.
💀 Die of the Dead (Radical 8 Games). Another game of tempting fate. Lots of dice, colorful coffins and special effects or abilities every time we open a coffin with the intention of getting our dice to the top of the ladder. super cool!
🌺 Blume (Yanaguana Games). Another tile placement game, but not just another one. In this game we have to try to complete the maximum number of colorful flowers to sell them in the flower market. Very interesting the fact that in addition to managing and placing the tiles correctly, we can (and should) alter the price of the flowers in the market to score.
📞 Interferencias (Goliath). Have you ever played the "cracked phone"? Basically it consists in that alternately a player writes a sentence and the next player will draw as best he/she knows what the previous player has written. A game that without many pretensions achieves what it seeks: to have a fun time and provoke laughter.
🤬 Off Topic. If you enjoy Cards Against Humanity style games, you will like this party game for adults. Many cards with implausible situations that we have to complete with the words we can think of in the time available (we will play with an hourglass).
The games of Jugador Inicial
Àlex always makes a good selection of games in which quality is more important than quantity. For this mini vacation he has brought us small format games very transportable and one big box game with a lot of interaction between players.
🏝️ The Island (Asmodee). Many times we have come across rankings of "losing friends" games, always led by this game. The objective of The Island (also known as Survive: Escape from Atlantis!) is to save the maximum number of meeples (or at least the ones that give the most points) before the island disappears. To avoid this, we will control evil creatures that will gobble up the boats and the survivors.
🧚 Fantasy Realms (Looping Games). Not another combo game. With a fairly large deck of cards, set in medieval times, we will have to get the cards that best combine with each other before the discard pile is completed. A game with infinite replayability and that plays super fast.
💀 Skull King (Devir Iberia). This year 2021 we are playing a lot of trick-taking games. This time we find the novelty that players play simultaneously and in which they have to bet how many tricks they think they will win in the round. Losing a trick can be just as satisfying as winning it if your bet is headed in one direction.
🎆 Hanabi (Cocktail Games). If cooperative games are your thing, here's a super interesting option. Players play with their cards upside down, so that they are only visible to the other players. With the help of the other players we can obtain information to play the cards correctly and complete the colored ladders.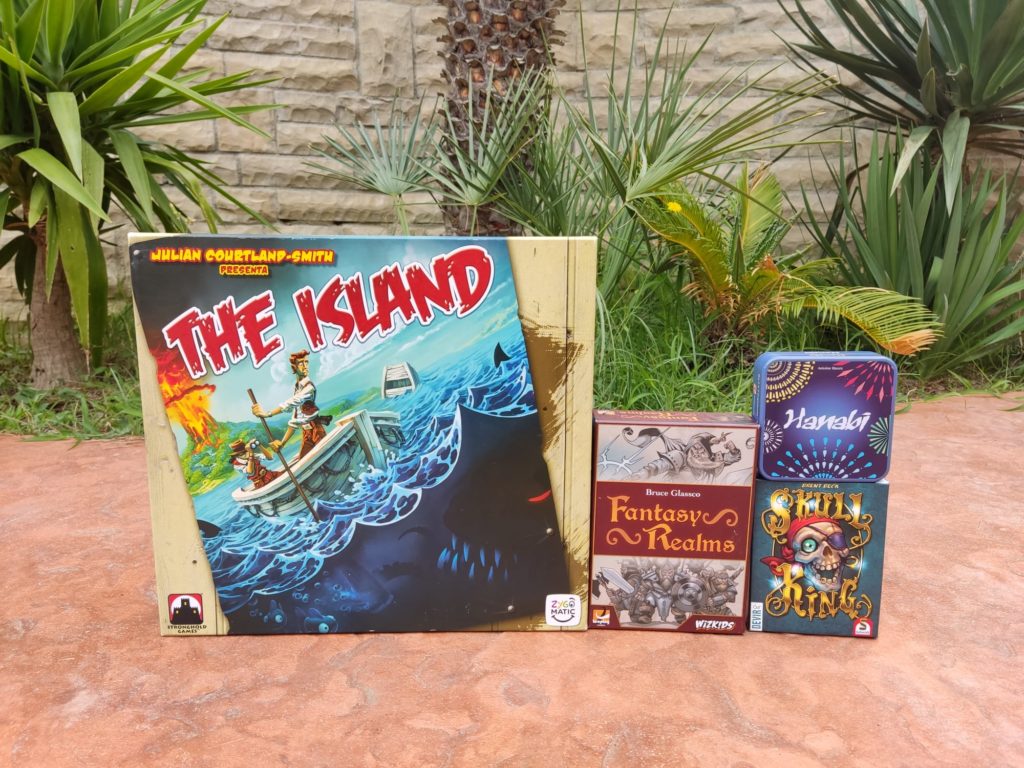 The games of El Panda Jugón and Burn The Festival
During these days we have also been able to coincide with El Panda Jugón and Burn The Festival to have a good meal and play some games.
As they already have a lot of games at home, they only brought a couple of games:
✍🏻 Scrawl (Mercurio Distribuciones). As in Interferencias (Telestrations, in English) we find the game of the cracked phone, but with some sentences with explicit adult content that will ensure laughs for everyone.
🔥🎪🐰 Burn The Festival. Mariona has created a very funny game in which we have to get experience points before someone burns the festival. It is a filler style game, that is, fast and with simple rules so it is easy to see the table with assiduity. You can try it at our Game Night. In this Instagram post we explain what we thought of the Pre-prototype version.
What games are you taking with you in your summer travel suitcase?
Follow us on instagram to see more photos of our activities: www.instagram.com/kleff.bcn
Join our Meetup community: https://www.meetup.com/es-ES/kleff-top-events-in-bcn